Friday, December 3, 2010 at 17:46
A work ("Rubaiyat" or "Quatrains") by this Argentine man of letters. You can read the original here.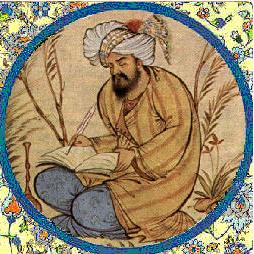 Change again my voice to meter Perse,
To recall that time is the diverse
Thread of avid dreams, those which we are
For the secret Dreamer to disperse.
Twin again the fire and ashen light,
Flesh and dust and fleeting river's flight,
Image of your life as well as mine,
It escapes both slow and fast this night.
Pledge again this monument's hard cast,
Which erects its pride in wind-like blasts,
To the inconceivable light's glare,
Centuries are ticks to Him who lasts.
Warn again the gilded nightingale
Singing once atop the night's black vale;
May stars hold in greed its resonance,
And not lavish treasures in its trail.
Make again the moon your verse and pen,
Write anew that bluish garden bend
Dawn prefers. Your garden and its moon
Will in vain have sought you in the end.
Tender eves beneath this moon are fools,
Humble specimens of filth-strewn pools,
In whose watery mirrors you'll espy
Endless images of endless pools.
May the Persian moon make us distrust
Golds of empty dusks, recurring lusts;
And tomorrow is today, but you
Are others, the dead, whose face is dust.