Sunday, April 13, 2014 at 14:01
One of the greatest poems ever written ("Nature and Art"), the work of this German man of letters. Especially famous is the penultimate line, a favorite quote of this writer. You can read the original here.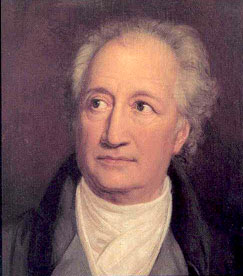 Nature and Art, from one another fled,
Are, ere one knows, again in closest tie;
Aversion, too, from me has soon been bled,
And equal force attracts me to their side.

And yet, one honest effort will suffice!
And when in measured hours ourselves we bind
To art, at zeal and fervor's glorious price,
Anew may nature's glow our hearts then find.

All learning asks for such tuition paid;
In vain will strive those minds unbound, unmet,
To reach at last some marveled heights unseen.

Thus great things come to those whose will is made,
We know the Master by his limits set,
For this one law can only make us free.
tagged
Goethe
in
German literature and film,
Poems,
Translation