Wednesday, January 2, 2008 at 13:10
Dear Friend
You have asked me what is religious experience, a topic I cannot hope to explain in any detail because religious experience is precisely what we sense that does not lend itself to explanation. I can say, however, that having premonitions of what is about to happen is not a religious experience, because life is either a religious experience or it is not. Knowing or seeing something beforehand might be nothing more than an example of braille on the plain surface of time, but it certainly does not qualify as anything profound.
The approach I can suggest for your other questions is that it is not about understanding anything at all, but by experiencing. The formulation of the intercourse of one mind's experience of something beyond what one can see and touch may be termed an aesthetic expression. Sustaining that expression over a whole canvas, or page, or series of euphonious instruments, might be termed an artistic work. Seeing the world in this way may then be termed as artist's perspective and is not a choice but a vocation bereft of any higgedly–piggedly religious epiphany. An epiphany implies that there is a break in consciousness that allows the subject to enter a higher plane. But there are no breaks from my perspective, because the viewpoint is as constant as the firmament itself is starry and black.
In short, one either sees the world this way or one doesn't, and there is really nothing one can do about it. Time and again common sense has tried, in gruff impatience, to pull me away from the exotic beauty of some magnificent exhibit to show me the spoils of man's discoveries, only to have me resist and shake myself loose each time. Answers are not to be found, but to be lived, and perhaps when we are sad and grey and life's glow has dimmed, we will derive a certain thread of understanding from this bedlam. Until then I will remain as enlightened as a dolmen amidst the sylvan scene.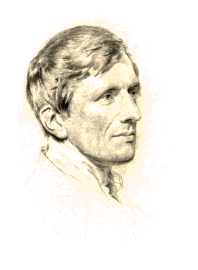 The title of this post is
one of the most remarkable texts ever written
. It is, in a few words, a proof of proof, and one that goes beyond contemporary thought by virtue of both its openness and its tightness. It is by a man appropriately called
Newman
, whose style and logic are so incontrovertible that they could corral the staunchest pagan (he was a Cardinal) and make the most ardent of disbelievers twitch. I will leave you, however, with a quote from
another famous book
, which will perhaps express something my abilities cannot:
"He [Maximov] was as reliable as iron and oak, and when Krug mentioned once that the word 'loyalty' phonetically and visually reminded him of a golden fork lying in the sun on a smooth spread of pale yellow silk, Maximov replied somewhat stiffly that to
him
loyalty was limited to its dictionary denotation. Common sense with him was saved from smug vulgarity by a delicate emotional undercurrent, and the somewhat bare and birdless symmetry of his branching principles was ever so slightly disturbed by a moist wind blowing from regions which he naively thought did not exist. The misfortunes of others worried him more than did his own troubles, and had he been an old sea captain, he would have dutifully gone down with his ship rather than plump apologetically into the last lifeboat."