Friday, October 10, 2014 at 15:24
A work ("Twilight") by this French man of letters. You can read the original here.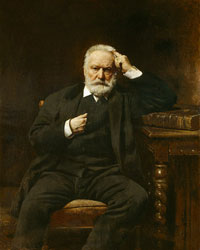 A white moiré shroud shakes amidst the woods,
A cryptic pond gleams where the clearing waits;
The trees stretch deep, their branches black like soot;
Did you see Venus there in lightest gait?

Or Venus dancing on the hilly peak?
Are you then lovers, passing through the shades?
As brown paths are with muslin white arrayed,
To sleeping tombs the waking grass will speak.

What says the grass? How then the tomb's reply?
If you live, love! Beneath the yews we're cold.
Hare, find your hole! Love, love! Soft falls the night;
Be happy while our thoughts retain their mold.

Live! God wants us loved. Make us envy you,
O pairs who pass beneath green hazels' womb.
All that, when leaving life, lives in the tomb,
We took from love, in prayer so to use.

Our dead ere were so beautiful indeed;
The shaded glowworm strays with torch aloft;
This tomb will shake, by God's will so decreed,
Amidst the swaths on wind upon a toft.

The reaper's dull tread shall make meadows quake;
A black roof's shape shall trace a cottage bare;
The heavens' star, with flowers' vivid glare,
Shall open splendid freshness in its wake.

Love! 'Tis the month of ripest berry fruit.
And dreamy evening's angel shall embed,
Afloat on wind and darkest wing's pursuit,
The quick's each kiss with prayers of the dead.
tagged
Hugo
in
French literature and film,
Poems,
Translation